Filter By:
A Guide to Mortgage Options and the Home Buying Process for First-time Homeowners in Illinois
Published: 05/29/2019
Published in: Mortgage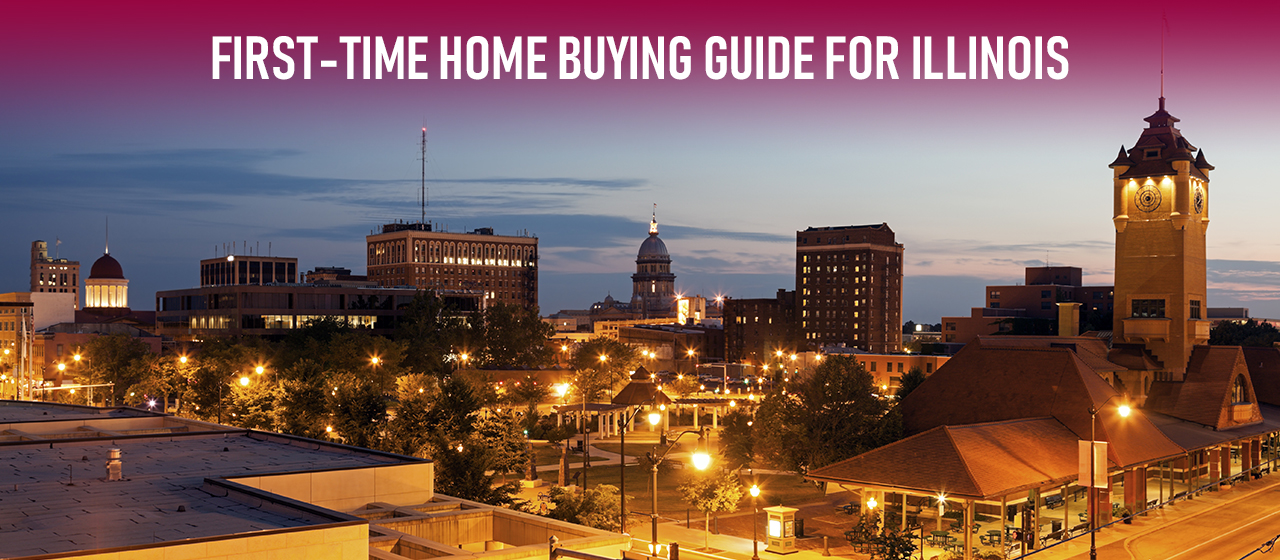 Buying your first home is an exciting experience. Whether you are buying as an individual, a couple, or a family, becoming a homeowner is a special landmark in your life. It solidifies your roots in your community and gives you a sense of stability and control over your environment. Unlike renting, when you own your home you can do whatever you want with it and you never have to move just because the landlord decides to sell.
As your local mortgage lender, we are just as thrilled to see you buy your first home as you are. We want to help you find the right mortgage and get to closing as quickly as possible. Our guide to the mortgage process for first-time buyers is intended to be a helpful resource as you learn about the lending process. Our guide covers everything you need to know from determining your ideal price range to getting pre-qualified for your mortgage and choosing the right loan.

How much house can I afford in Illinois?
Many first-time homebuyers start the process by browsing online home listings in their desired neighborhoods. There's nothing wrong with this—looking at real estate is fun—but keep in mind that your timeline to home buying really begins when you know how much house you can actually afford in Illinois. To figure out your best price range, you need to gather several pieces of information.
Home Prices
Using Springfield, IL as an example, we can use free tools like Trulia to break down the current median listing prices by neighborhood. We've listed them in order of least-most expensive:
Pillsbury: $53,100
Enos Park: $64,950
Laketown/Southern View: $73,175
Oak Ridge, Harvard Park, and Vinegar Hill: $79,900
Historic West Side and Westchester: $116,700
The overall median home value in Springfield is $106,800, according to Zillow. We'll use this as our example figure in the rest of the home affordability calculations in this section.
Your Down Payment
The classic wisdom on down payments is to aim for 20 percent. This is the amount you need to put down to avoid paying private mortgage insurance (PMI) on your home loan. Some exceptions to this rule apply (we'll cover the various types of mortgages and government-insured loans later on), but by and large 20 percent is the standard. Of course, there are home loan options for buyers who want or need to make a lower down payment. Here's what various down payments would look like on our $106,800 home:
20 percent: $21,360
15 percent: $16,020
10 percent: $10,680
5 percent: $5,340
3 percent: $3,204
How much cash do you have saved toward a down payment? With some mortgage programs, you may be able to use gift money for some or all of the down payment. It's not uncommon for first-time homebuyers to get family assistance with down payment money.
You can also take advantage of government and nonprofit down payment assistance programs. The Illinois Housing Development Authority offers three types of down payment assistance through its IHDA Mortgage programs:
Forgivable: 4 percent of the purchase price (capped at $6,000) as a grant that doesn't need to be repaid
Deferred: 5 percent of the purchase price (capped at $7,500) as an interest-free loan that doesn't need to be repaid until you sell, refinance, or pay off your mortgage
Repayable: 10 percent of the purchase price (capped at $10,000) as an interest-free loan repaid over a 10-year term.
Based on these sample down payments and options for down payment assistance, take a moment to consider how much you can put down and whether or not avoiding PMI is a priority for you.
Closing Costs
The term "closing costs" encompasses all the services associated with your real estate transaction. For example, you have to pay for the title company's fee, an appraisal fee, a processing fee, a recording fee, your title insurance policy, and/or other charges. As your lender, Town and Country Bank and Peoples Prosperity Bank will provide an estimate of your closing costs after you complete your mortgage application. A few days prior to closing, you'll receive a final list of closing costs.
Overall, home buyers can expect to pay between 2-5 percent of the purchase price in closing costs. So, for our example $106,800 home, closing costs would work out to about $2,136-$5,340. You may also have to refund the seller for prepaid real estate taxes at closing, depending on the time of year you buy. We can provide an itemization so you know what to expect.
As with your down payment, you may be able to use gift money for the closing costs or fold them into your mortgage. Some home loan programs also allow the use of a "seller's assist," in which the seller provides a credit toward closing costs.
Escrow
This is the first check you will write for your new home. Also known as an "earnest money deposit," the escrow amount is collected after your offer is accepted by the seller and held in a special escrow account by the seller's title company. Escrow is essentially a deposit that shows the seller you're serious, so they can feel confident about accepting your offer and taking the listing down.
The amount of your earnest money deposit is negotiated with the seller, but usually amounts to $1,000-$2,000. The good news is that this isn't a separate charge; if the sale proceeds to closing, your escrow deposit will be used as a credit toward down payment closing costs. What if the buyer or seller backs out of the contract? There is usually an agreement in the sales contract about how escrow money will be resolved if the sale doesn't go through. Ask your realtor for details.
So, the base amount you'll need to purchase a median-value home is…
To summarize our calculations thus far using Springfield as an example, you'll need to have at least $5,500 in the bank (or lined up in gift money) to pay for the escrow deposit, as well as the down payment and closing costs.
You should also be prepared to pay $300-$500 out of pocket for a home inspection. These are optional, but highly recommended, as inspections often reveal problems with the house that you can negotiate to have the seller fix before closing or agree to a lower purchase price.
Finally, you'll have to pay for Town and Country Banc Mortgage Services, Inc.'s appraisal of your home's value. Lenders appraise the house to ensure you're not borrowing more than it's worth. You can find out how much your lender charges for an appraisal by asking before you complete the application. That way you're prepared for all of the expenses involved in the home buying process.
Understanding Your Monthly Mortgage Payment
The down payment and closing costs are one-time payments. So, while they are important in determining how much you can afford to spend on a house, the monthly mortgage payment is the biggest factor in long-term affordability (after all, buying a home is a long-term commitment, even if you sell it before your loan term is up). Here's what a mortgage payment consists of:
Principal: This is the portion of your payment that goes toward the original amount you borrowed (purchase price minus down payment).
Interest: The amount you pay in interest will depend on your rate. Ask your lender about the current rates they offer to buyers in your credit score range.
Escrow: Your lender will usually pay the real estate taxes and homeowner's insurance premiums. Thus, a portion of your monthly payment is held in escrow until it's time to pay taxes and insurance.
Utilities and Home Repairs
As a renter, you may not have to pay all of the utilities associated with your home. Perhaps one or more of them (such as water or heat) is already included in your rent. And when anything goes wrong in your living space, you can just call the landlord to take care of it.
As a homeowner, you'll have to cover all of the monthly utilities yourself. It can be hard to predict the exact cost of things like heat in the winter or electric in the summer until you've lived in your home a while. The most important thing you can do at this stage is to reserve a utilities line in your new homeowner budget. It's also prudent to set aside some money each month for home repairs and improvement projects.
Debt to Income Ratio
This calculation consists of your monthly debt payments (include everything from student loans to credit cards, etc.) divided by your gross (pre-tax) monthly income. Your debt-to-income ratio is one of the figures lenders use to determine your ability repay a loan. When it comes to mortgages, the highest debt-to-income ratio permitted is usually about 43 percent.
However, Town and Country Banc Mortgage Services, Inc. understands that student loan debt has become a significant hardship and economic barrier to homeownership among today's first-time buyers. That's why we are proud to offer the Professionals Mortgage Program. If you or your co-buyer hold one of our acceptable designations and can provide documentation of at least one year of student loan deferment, you may exclude your student loan debt from the debt-to-income ratio on your home loan application. Talk to one of our mortgage loan officers for more details.
Get pre-qualified with your mortgage lender
Now that you have a better sense of how much you can afford to spend on housing, it's time to get pre-qualified for your mortgage loan. There may be a difference between the price you have in mind and the amount your lender will pre-qualify you for. It's always best to spend less than you can, if possible. This gives you a cushion in your budget for the unexpected. It also protects you from making yourself "house poor," in which you spend so much on your home, there isn't much leftover for fun things like travel, dining out, etc. Remember, too, that you'll want to spend money on decorating your new home—that's one of the fun parts of home ownership! Only you can decide how much you want to reserve in each of these discretionary categories.
Mortgage Pre-Qualification and the Pre-approval Letter
If you're already working with a real estate agent, you've probably been asked for a mortgage pre-approval letter. This document supports your home search by letting real estate brokers and sellers know that you are a qualified buyer. When you're ready to make an offer, most sellers will want to see a pre-approval letter before accepting your offer. You can start the process now by applying here. Then, set up an appointment with one of our mortgage lenders to go over your financial situation in order to issue an official pre-approval.
From Accepted Offer to Closing
Once you find a house you love and your offer is accepted, Town and Country Banc Mortgage Services, Inc. will work with you to get you to a closing. Some home buyers find the weeks leading up to closing to be stressful, but working with the right mortgage lender can turn the application and closing process into a positive experience.
If you have specific questions about the application process and closing, take a look at the FAQs on our Mortgage Resources page or contact one of our lenders.
Choosing the Right Mortgage
Now that you understand the home buying process, you're ready to learn about the different types of mortgages and loan options available to you.
Fixed Rate vs. Adjustable Rate (ARM)
When interest rates are low, as they have been recently, most home buyers prefer fixed rate mortgages. This means that you'll enjoy today's low rates throughout the life of your loan. It also gives you a predictable monthly payment amount.
With ARM loans, you start off with an introductory rate, which may be lower than the fixed rate. After the introductory period of a few years is over, your rate may fluctuate each year depending on the benchmark rate your lender uses. Variable rates can go up or down, and your monthly payment will adjust accordingly. Many borrowers with ARM loans eventually refinance into a fixed-rate mortgage if they plan to stay in the house long-term.
Loan Term: 15, 20, or 30 years
Choosing the right loan term often comes down to the affordability of your monthly payment. Shorter terms usually come with lower rates, but the monthly payment will be higher. A longer term may make more sense for first-time buyers who are still building their careers. Use our mortgage calculator to see how the different loan term options affect your monthly payment.
Jumbo vs. Conforming
A conforming mortgage loan does not exceed the maximum borrowing limit set by the Federal Housing Finance Agency. For 2019, the maximum conforming loan limit for one-unit properties is $484,350. Remember that is much higher than the median home value in many markets across downstate Illinois like Springfield, IL, so most homebuyers won't have a problem staying within the limit. If you need to borrow more than the conforming loan limit, you would apply for a jumbo loan. These usually come with higher interest rates because they cannot be acquired by Fannie Mae and Freddie Mac, thereby posing more of a risk for the lender.
Government-Insured Loans
The federal government offers several different home loan programs. These mortgages are processed through your lender, but insured by the government, which enables the lender to offer special terms like a low down payment. You don't have to be a first-time buyer to apply for one of these loans, but they are usually great for first-time buyers, especially low-to-middle income buyers. Town and Country Banc Mortgage Services, Inc. is strong in government home loan programs; we do a lot of them and make the process as quick and easy as possible.
FHA Loans are open to any buyer who meets the eligibility requirements. With an FHA loan, you can make a lower down payment, use gift money for your down payment and closing costs, or ask for a seller's assist.
USDA Loans are available to buyers in certain rural and suburban areas who meet eligibility requirements.
VA Loans are for eligible service members, veterans, and surviving spouses. With a VA loan, you don't have to make a down payment at all.
HomeReady® by Fannie Mae is a low down payment mortgage with cancellable private mortgage insurance once you have 20 percent equity.
The Illinois Housing Development Authority offers various mortgage loan options with down payment assistance for first-time and repeat buyers.
Renovation Loans
Buyers who want to purchase a fixer upper and make it their own can take advantage of the FHA 203k Standard Loan or Fannie Mae™ HomeStyle® mortgage. Both offer single-close mortgage loans that cover the purchase price as well as the amount needed for renovations.
Why go to a local lender for your mortgage?
Today's home buyers have many options for choosing a mortgage lender. However, your local community bank is still your best partner for finding a mortgage that fits your circumstances and budget, getting approved, and making it to closing in a smooth and efficient manner. At Town and Country Bank and Peoples Prosperity Bank, our full-time mortgage lenders have longtime local expertise in the Illinois real estate market. We can also originate home loans in all states besides California, Texas, New York, and Connecticut.
Online lenders tend to have high denial rates because they take everyone, but we do a lot of government-insured mortgages, so we are really good at getting you to closing with an FHA, VA, etc. loan. At Town and Country Banc Mortgage Services, Inc., we work with our customers one-on-one to help you get ready for the application process and set you up for success. We offer many different state and federal loan programs to ensure the right fit for each of our borrowers. And unlike bigger lenders, who immediately sell your mortgage to another bank, we keep our mortgage loans and continue to invest in the communities we serve.
Ready to start the home buying process? Apply online, contact one of our lenders to make an appointment, or visit one of our 11 branches in Springfield, Buffalo, Jacksonville, Lincoln, Decatur, Mt. Zion, Edwardsville and Fairview Heights, and Quincy. We also have a dedicated loan production office in Bloomington.